Home
/
Our Products
/ Eyelink Conveyor Belt
Eyelink Conveyor Belt
The Premier Solution For Heavy Loading
E yelink conveyor belt, also called wire loop belt, consists of eye- links with eye- shape at the end, plate links and cross rods. Assemble the eye- links on to cross rods and a hinge construction is created. This construction is flexible during the conveying process. Plate links are interconnected by cross rods. The plates transfer the load to the support sections and usually be installed in rows at a regular distance. Eye- links, plate and cross rods form a module. So eyelink belt is also named as modular belt.

Eyelink belting is the solution for heavy load conveying process. It combines strength, stable carrying surface, long lasting and limitless configurations, all of which make it an ideal conveyor belt in all conveying applications. Besides, side guard plates and cross flights are available on request. Side plates is designed to control the height of the product to be conveyed.

Eyelink modular belt has four constructions - full eyelink, eyelink with spring, eyelink with rings and eyelink with underwelded wire. Owing to the multiple constructions, eyelink belting can be manufactured into thousands styles to suit different applications. For example, if you need the conveyor belt which transfer very small products, full eyelink belts may be the first concern. Full eyelink conveyor belting is the standard version of eyelink belts. It is designed without spacers, which features outstanding flow- through character and flat holding surface. For a full eyelink belt, the eye- links lie against each other, and the mesh opening equal to the diameter of the wire. This kind of mesh belt is ideal for conveying small products. Given the characters above, this mesh belt is highly popular in food processing like baking.

Eyelink belting with underwelded location wire provides a great variety of openings depending on the product to be processed. One, two or three location wires can be welded. Not only does underwelded location wire improve the belt load capability, but also eliminates the potential bacteria traps under the spacers such as spring. This configuration makes the cleaning easy. Spring spacer features good shock resistance and resistance against lateral forces, because the belts are more stable for the eye- links are able to move on the cross rod. Eyelink belting with spring spacer is extensively used in heating or freezing applications. Ring spacer increases the gap between the eye- links and at the same time allow for more air flow. The gap is determined by the rings. One, two or more are available depending on the application requirement.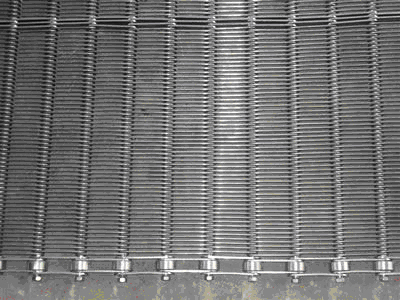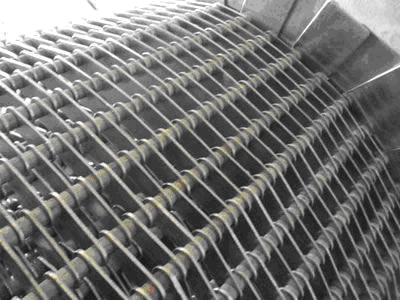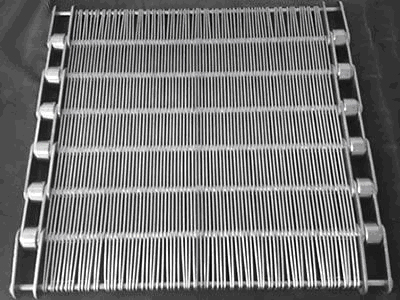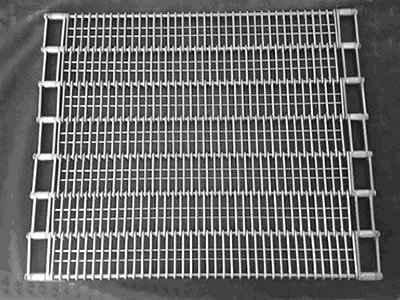 Material: SS 304, SS 316.
Chain pitch: 25.4 mm, 31.75 mm, 38.1 mm, 50.8 mm, 63.5 mm, 76.2 mm.
Rod diameter: 5 mm, 6 mm, 7 mm, 8 mm, 10 mm, 12 mm.
Wire diameter: 1.5 mm, 1.6 mm, 1.8 mm, 2 mm, 2.5 mm, 3 mm.
Spiral pitch: 2.4 mm to 100 mm.
Rod pitch: 25.4 mm, 31.75 mm, 38.1 mm, 50.8 mm, 63.5 mm, 76.2 mm.
Belt width: 200 mm to 6, 000 mm.
Heavy- duty conveying requirements.
Flat carrying surface.
Multiple drive options.
Multiple spacers options.
Variable wire spacing.
Excellent air and fluid drainage.
Custom specification for special applications.
Numerous configuration options.
Cross flights and side guards provided.
Reduce downtime and maintenance.
Baking.
Cooking.
Cooling.
Heating.
Drying.
Freezing.
Blanching.
Washing.
Frying.
Sorting.
Grading.
Loading.
Elevating.
Item No.
Belt Pitch
Wire Dia.
Cross Rod Dia.
Item No.
Belt Pitch
Wire Dia.
Cross Rod Dia.
mm
mm
mm
mm
mm
mm
ECB01
15.875
1.8
3.2
E CB015
50
3
5
ECB02
25
2
5
E CB016
50.8
1.6
8
ECB03
25.4
2
5
E CB017
50.8
1.6
6
ECB04
30
1.6
4
E CB018
50.8
2
8
ECB05
30
2
4
E CB019
50.8
2.5
8
ECB06
30
2
5
E CB020
50.8
2.5
5
ECB07
30
2
7
E CB021
50.8
3
5
ECB08
30
2
8
E CB022
50.8
4
7
ECB09
31.75
2
5
E CB023
60
2
5
ECB010
50
1.4
5
E CB024
60
2.5
5
ECB011
50
1.6
5
E CB025
70
4
7
ECB012
50
2
5
E CB026
75
2.5
5
ECB013
50
2.5
6
E CB027
75
2.5
8
ECB014
50
2.5
8
E CB028
100
3
8