Home
/
Our Products
/ Heavy Duty Flat Wire Belts
Heavy Duty Flat Wire Belts
Premier Choice For Heavy Loading
Heavy duty flat wire belts has all the characteristics of standard duty belts except heavier cross rods and thicker flat strip. 1/2" wide X 0.062" thick flat strip and 6 gauge connector rod gives the belt about 2.5 times strength than the standard one. Hence, it's the choice for heavy duty conveying system.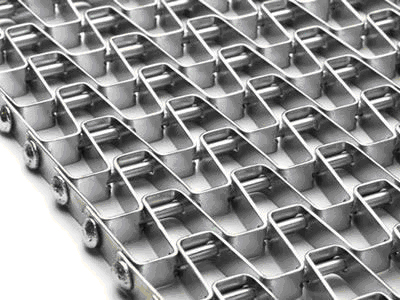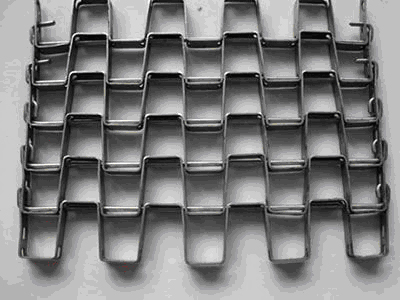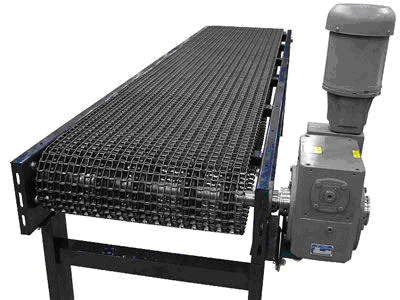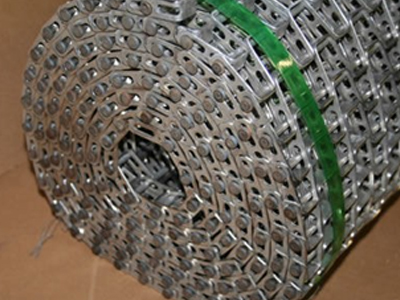 Item: Heavy duty flat wire belts.
Flat strip: 1/2" wide × 0.062" thick, round edge.
Cross rod: 6 gauge, high tensile strength.
Material available:

Low carbon galvanized steel C 1015.
C 1050 high carbon steel.
T- 304 stainless steel.
T- 306 stainless steel.

Specifications: see the table below.
2.5 times stronger than standard duty flat wire belt.
Straight- running belt.
High strength- to- weight ratio.
Positive- driving belt.
Welded button edge or clinched edge.
Flat carrying surface.
Easy to clean and to install.
Wide range of aperture configurations.
Very large open area.
Cooling.
Heating.
Sieving.
Drying.
Sorting.
Ovens.
Washing.
De-watering.
Drainage.
Breading.
Food baking, cooling and freezing.
Chemical industry.
Annealing.
Item No.
Mesh
Flat strip
Cross rod
Edge Finish
Width
Min.
Max.
Inch
inch
gauge
inch
inch
HFW01
1× 1
1/2 × .062
6 gauge
Clinched selvage
10
192
HFW02
1/2× 1
1/2 × .062
6 gauge
Clinched selvage
10
192
HFW03
1 × 1
1/2 × .062
6 gauge
Welded selvage
3
192
HFW04
1/2 × 1
1/2 × .062
6 gauge
Welded selvage
4
192
HFW05
1/2 × 1 Modified
1/2 × .062
6 gauge
Welded edge
6
192